3 WAYS FOR YOU TO BE INVOLVED
PRAY
Pray for select countries or regions around the world every day. Pray the lost are reached with the gospel of Jesus Christ. Pray that the hungry are fed. Pray that the sick are healed.
GIVE
Every dollar you give goes directly to World Missions if you designate it to. While in church, on your offering envelope you can designate a specific world-mission for your donation to go to, or if you simply check "Missions," your donation will be divided equally among the world missions that Montclair Tabernacle is involved in. You can also designate your donation for Home Missions and it will be used for one of our US based "home missions."
GO
Do. Get involved with the hands-on mission work that we do at Montclair Tabernacle. For more information see Tom Stewart.
World Missions Target Ministries
Montclair Tabernacle is currently engaged in ministering to the following countries:
Nicaragua (Central America) – The Norlings
Colombia (South America) – The Wozniaks
Justin & Jessica Countryman – Montana
John & Tanya Rule in Guatemala
Haiti (Caribbean) – Dufali Orphanage
Adam Lott – Missionary to Sumatra (Malaysia)
We can't do it without you.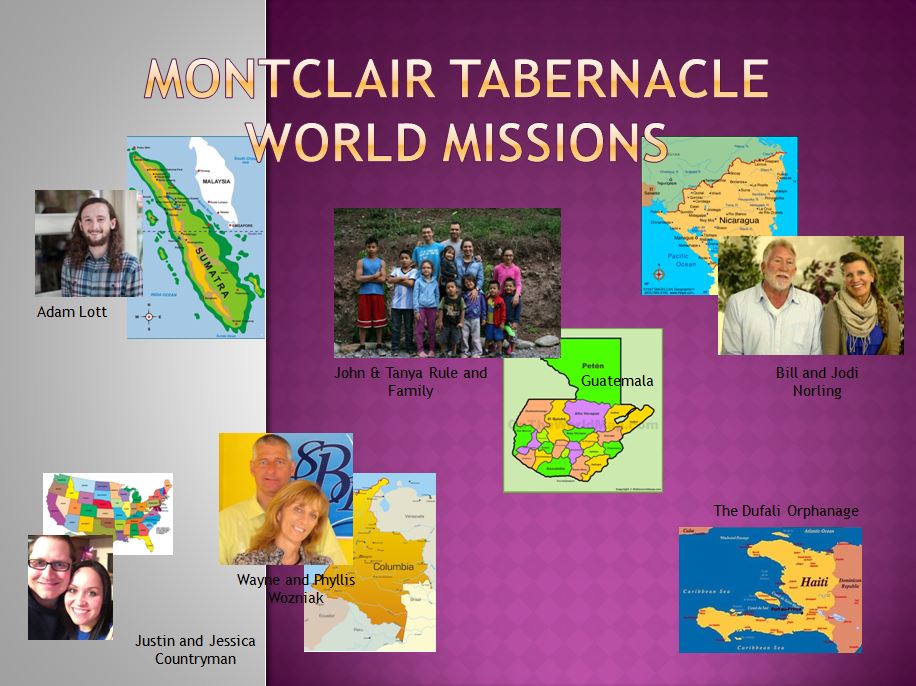 World Missions Financial Pledges and Giving:
Thank you for your generous response to our pledge drive for 2015. You donated more than $20,000! Thank you!
Please continue to give generously in 2017 and let's see God do some miraculous things this year!
God bless you!
Tom Stewart, World Missions Coordinator, Montclair Tabernacle.