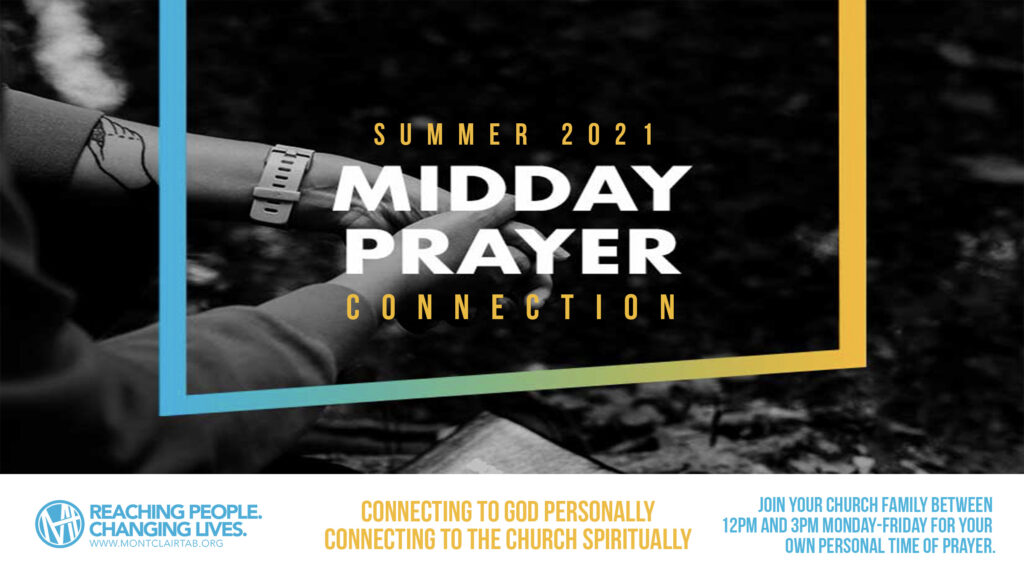 Join us starting July 1st for
MIDDAY PRAYER CONNECTION
.
We are asking our church family to take time during the midday hours of 12pm-3pm and pray for our church and for the needs of our congregation. You may pray for 5 minutes or 30 minutes. Time doesn't matter. What does matter is that you remember to pray. Posts will be made daily on our Facebook page that will help you with certain prayer points. We hope you will join us as we CONNECT TO GOD PERSONALLY and WE CONNECT TO THE CHURCH SPIRITUALLY.
– Pray for souls to be saved through the ministries of our church.

– Pray for our Pastors and the Leadership of Montclair Tabernacle.

– Pray for clear direction from the Holy Spirit concerning vision and next steps, building, grounds, and stewardship of God's provision.

– Pray for our ministries, that they would be led well and accomoplish what they were intended to do.

– Pray for our children, teens, and young adults, that God would ignite a passion and desire in them for the things of God.

– Pray that new leaders would begin to be awakened and rise up to carry out the next level and season of ministry opportunities.

– Pray for an end to the COVID menatality of separation and pray for a renewed sense of uregncy to be in God's House.

– Pray for an awakening of hearts to the Word of God.

– Pray that true discipleship would be embraced by each believer and that each person would get involved in opportunities for spiritaul growth.

– Pray for encouragment and joy to be restored to those who have struggled during this last season.

– Pray for physical healing to take place in those that have been stricken with heart disease, cancer, strokes, diabetes, back issues, headaches, etc.

– Pray that doors of untold supernatural provision will open for the carrying out of our Kingdom assignment here in Prince William County.

– Pray that God would be glorified and Satan would defeated through our worship and adoration of the Lord.

– Pray that every weapon that the enemy has devised to bring harm to the Body of Christ will be defeated as each believer puts on the full Armor of God and the mind of Christ.