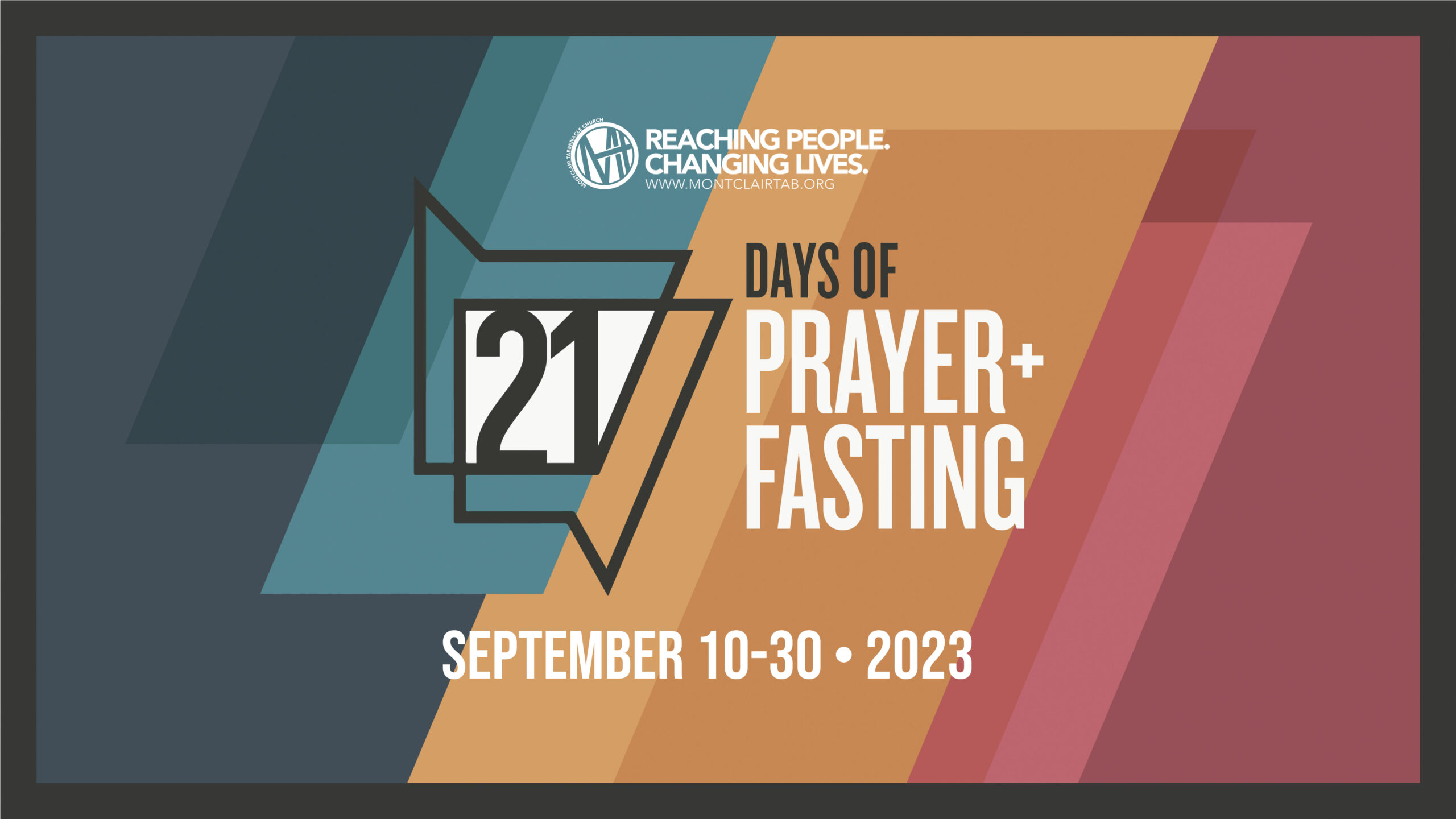 The goal of fasting is to draw nearer to God. Biblical fasting always has to do with eliminating distractions for a spiritual purpose; it hits the reset button of our soul and renews us from the inside out. It also enables us to celebrate the goodness and mercy of God and prepares our hearts for all the good things God desires to bring into our lives. Remember, your personal fast should present a level of challenge, but it is very important to know your body, your options, and, most importantly, to seek God in prayer and follow what the Holy Spirit leads you to do.
TYPES OF FASTING
Complete Fast

In this type of fast, you drink only liquids, typically water with light juices as an option.

Selective Fast

This type of fast involves removing certain elements from your diet. One example of a selective fast is the Daniel Fast, during which you remove meat, sweets, and bread from your diet and consume water and juice for fluids and fruits and vegetables for food.

Partial Fast

This fast is sometimes called the "Jewish Fast" and involves abstaining from eating any type of food in the morning and afternoon. This can either correlate to specific times of the day, such as 6:00 am to 3:00 pm, or from sunup to sundown.

Soul Fast

This fast is a great option if you do not have much experience fasting food, have health issues that prevent you from fasting food, or if you wish to refocus certain areas of your life that are out of balance. For example, you might choose to stop using social media or watching television for the duration of the fast and then carefully bring that element back into your life in healthy doses at the conclusion of the fast.
At Montclair Tabernacle, we encourage fasting for 21 days each year in the month of January. This is part of 21 Days of Prayer and Fasting, a season of focused prayer as a church family. You may also choose to fast at other times during the year for your own spiritual development. It's very typical to fast a single meal, a whole day, or three days or more. The timing of your fast is not as important as the strength of your focus on God as you fast.
Scripture References
Matthew 6:16-18
Matthew 9:14-15
Luke 18:9-14
Acts 27:33-37
Nehemiah 9:1-3
RESOURCES TO ASSIST YOU ON YOUR 21 DAYS:
7 Basic Steps to Successful Fasting and Prayer
Article by Bill Bright click here
Fasting 101 Questions
Book by Jentzen Franklin click here
Short Devotionals for our 21 Days
Day One – Living Sacrifices
Romans 12:1-2
"Beloved friends, what should be our proper response to God's marvelous mercies? I encourage you to surrender yourselves to God to be his sacred, living sacrifices. And live in holiness, experiencing all that delights his heart. For this becomes your genuine expression of worship. Stop imitating the ideals and opinions of the culture around you, but be inwardly transformed by the Holy Spirit through a total reformation of how you think. This will empower you to discern God's will as you live a beautiful life, satisfying and perfect in his eyes."
Father, I place my whole life on the altar as a living sacrifice. I embrace what you have done for me and what you continue to do in me. Help me to not simply go with the flow of the culture or routine around me but to be conscious today of your will in my life. Change me Lord from the inside out I pray. Amen.
Day Two – Speak to the Mountains
Matthew 17:20
"…..for assuredly, I say to you, if you have faith as a mustard seed, you will say to this mountain, 'Move from here to there,' and it will move; and nothing will be impossible for you."
Pray for faith and boldness to speak to the "mountains" in your life. Seek to hear the voice of God or to have a divine encounter that will cause your faith to endure and grow. With mountain-moving faith, speak to the obstacles in your way and move them out. Nothing will be impossible for you!
Day Three – Check your Motives
Joel 2:12-13
"Now, therefore," says the Lord,"Turn to Me with all your heart, With fasting, with weeping, and with mourning." So rend your heart, and not your garments; Return to the Lord your God, For He is gracious and merciful, Slow to anger, and of great kindness; And He relents from doing harm."
This verse speaks of the act of checking any part of our motives that is indifferent to the things of God. Any part of our life that we neglect to surrender to God will undermine everything that God desires in our life. Invite the Holy Spirit to search your motives, to examine your thoughts and discern your motives.
Day Four – Desiring God
Psalm 63:1
"O God, You are my God; Early will I seek You;My soul thirsts for You; My flesh longs for You In a dry and thirsty land Where there is no water."
Father, awaken in me a new desire, a hunger and thirst for God. As you fast, take the desire for food that you're having and refocus it on how God has been so good to you and then ask God to fill those food desires with desiring God more. Amen.
Day Five – Break Every Chain
1 Corinthians 6:12-13
"It's true that our freedom allows us to do anything, but that doesn't mean that everything we do is good for us. I'm free to do as I choose, but I choose to never be enslaved to anything. Some have said, "I eat to live and I live to eat!" But God will do away with it all. The body was not created for illicit sex, but to serve and worship our Lord Jesus, who can fill the body with himself."
Let's look at the areas in our life like addictions, desires, behaviors, and emotions that have enslaved us. Take time today to confess these subtle and not-so-subtle areas in our life. After that, spend time confessing our love and desire for Jesus Christ alone.
Day Six – Breakthrough in Family
Matthew 17:21
"However, this kind does not go out except by prayer and fasting."
Are there any areas in your personal or family life where you need breakthrough? In this season of prayer and fasting, take authority in Jesus Christ. Declare and break the power of the enemy over those areas. Celebrate and testify to others of the goodness of God.
Day Seven – God's Patterns for Families
Colossians 3:18-21
"Wives, submit to your own husbands, as is fitting in the Lord. Husbands, love your wives and do not be bitter toward them. Children, obey your parents in all things, for this is well pleasing to the Lord. Fathers, do not provoke your children, lest they become discouraged."
Our prayer focus today is for our homes, families and marriages. Let's take time to thank God for those dearest to us like our parents, spouses, children and more. Begin to bless them and speak God's salvation, God's will and God's favor over their lives.
Day Eight – Healing Relationships
Ephesians 4:32
"But instead be kind and affectionate toward one another. Has God graciously forgiven you? Then graciously forgive one another in the depths of Christ's love."
Let's look deeply at all the relationships we have like marriage, family, church, co-workers and more. Pray for the relationships that need healing or forgiveness. Ask God for grace to forgive, to be kind and to be gracious.
Day Nine – Your testimony
Revelation 12:10-11
"Then I heard a triumphant voice in heaven proclaiming: "Now salvation and power are set in place, and the kingdom reign of our God and the ruling authority of his Anointed One are established. For the accuser of our brothers and sisters, who relentlessly accused them day and night before our God, has now been defeated—cast out once and for all! They conquered him completely through the blood of the Lamb and the powerful word of his testimony. They triumphed because they did not love and cling to their own lives, even when faced with death."
Make this heavenly proclamation your personal proclamation today, declare it over your city, family and personal situations. Speak out loud and remind yourself where God has brought you from. There is power in your testimony.
Day Ten – The Father's Voice
Matthew 3:16-17
"And as Jesus rose up out of the water, the heavenly realm opened up over him and he saw the Holy Spirit descend out of the heavens and rest upon him in the form of a dove. Then suddenly the voice of the Father shouted from the sky, saying, "This is the Son I love, and my greatest delight is in him."
Seek a personal open heaven in your life. If Jesus the Son of God needed to hear his Father, don't you think you need to hear the voice and affirmation of Your Father in Heaven? In Christ, you are a true child of God, you are the one He recklessly loves, and you are His greatest delight.
Day Eleven – Pray for an awareness of the Kingdom of Heaven
Isaiah 64:1
"Oh, that You would rend the heavens! That You would come down! That the mountains might shake at Your presence"
An awareness of the kingdom of heaven is where there's a sense of Heaven happening on earth. There's a sense of Gods presence, there's a sense of clarity of thought, of heart, and mind that is unusual.
An awareness of the kingdom of heaven is something that was prophesied in Isaiah 64:1. It's a prayer, a prophecy where the prophet cries out "Oh that You would rend the heavens and come down". Faith is an anticipation for what's about to happen.
Day Twelve – Heal our Land
2 Chronicles 7:14
"If My people who are called by My name will humble themselves, and pray and seek My face, and turn from their wicked ways, then I will hear from heaven, and will forgive their sin and heal their land."
So God we pray to You, Humble ourselves again, Lord would You hear our cry? Lord will You heal our land? That every eye will see, That every heart will know, The One who took our sin, The One who died and rose
-Heal Our Land Song by Kari Jobe
Day Thirteen – Stairway to Heaven
Genesis 28:12-13
"Then he dreamed, and behold, a ladder was set up on the earth, and its top reached to heaven; and there the angels of God were ascending and descending on it. And behold, the Lord stood above it and said: "I am the Lord God of Abraham your father and the God of Isaac; the land on which you lie I will give to you and your descendants."
Like in historic revivals, "Open Heaven" experiences are on the rise in our day. What can we expect in a true "Open Heaven"? Apostolic commissionings emerge, angels appear, the voice of the Lord rattles every cage, revelation pours forth and so much more happens.
"Let's Get Positioned for an Open Heaven!" Get into kingdom alignment. Step out of the shadows of the side edges and move into the center of His Word, will and ways. Be centered in Him—after all being "centered in Christ" is the best place to be!
James W Goll – 2016
Day Fourteen – God of Miracles
Isaiah 45:2-3
'I will go before you And make the crooked places straight; I will break in pieces the gates of bronze And cut the bars of iron. I will give you the treasures of darkness And hidden riches of secret places, That you may know that I, the Lord, Who call you by your name, Am the God of Israel."
Lord, go before us and break the strongholds of evil, injustice and unrighteousness in our land. Break the spiritual strongholds over our city. Let this nation call upon the name of the Lord. Amen.
Day Fifteen – Prosperity & Peace of our City & Nation
Jeremiah 29:7
"And seek the peace of the city where I have caused you to be carried away captive, and pray to the Lord for it; for in its peace you will have peace."
Pray that God will encourage our church to begin taking a stand to make a significant difference in our cities – that we will be able to bring Godly direction and wisdom to government, business, education, media, arts & entertainment, family and the local church.
Day Sixteen – Government of our Nation
1 Timothy 2:1-2
"Most of all, I'm writing to encourage you to pray with gratitude to God. Pray for all men with all forms of prayers and requests as you intercede with intense passion. And pray for every political leader and representative, so that we would be able to live tranquil, undisturbed lives, as we worship the awe-inspiring God with pure hearts."
Today, our prayer focus is on our government, the President, the cabinets, and all other officials. Pray for the laws and policies of our government that it will be just and righteous. Pray that these political leaders will come to know and love Jesus Christ.
Day Seventeen – Boldness to share Jesus
Ephesians 6:19-20
"And pray also that God's revelation would be released through me every time I preach the wonderful mystery of the hope-filled gospel. Yes, pray that I may preach the wonderful news of God's kingdom with bold freedom at every opportunity. Even though I am chained as a prisoner, I am his ambassador."
Pray for everyone at Montclair Tab that they will be bold in sharing Jesus to their co-workers, family, friends and where ever they are. Pray that our church community begins to understand that no matter where we work or where we are, our job in life is to bring redemption everywhere we go.
Day Eighteen – Great is Your Faithfulness
Lamentations 3:22-23 NKJV
"Through the Lord's mercies we are not consumed, Because His compassions fail not. They are new every morning; Great is Your faithfulness."
Pray for Montclair Tabernacle Church. Our focus of prayer today will be on logistics, our future permanent location, and finances, that in each of these areas God will be faithful, to provide and strengthen the teams of Redemption.
Day Nineteen – Pray for our church leaders
Ephesians 4:11-13
"And he has appointed some with grace to be apostles, and some with grace to be prophets, and some with grace to be evangelists, and some with grace to be pastors, and some with grace to be teachers. And their calling is to nurture and prepare all the holy believers to do their own works of ministry, and as they do this they will enlarge and build up the body of Christ. These grace ministries will function until we all attain oneness in the faith, until we all experience the fullness of what it means to know the Son of God, and finally we become one perfect man with the full dimensions of spiritual maturity and fully developed in the abundance of Christ."
Pray for our Lead Pastors Brad and Erica, and all leaders for the anointing and leading upon their lives. Prayer for direction, wisdom and guidance as they the lead Montclair Tab. Pray that they all hear God clearly and that they have the courage to take the needed steps of faith so that Northern Virginia will experience revival.
Day Twenty – Outpouring of the Holy Spirit
Acts 2:1-4
"On the day Pentecost was being fulfilled, all the disciples were gathered in one place. Suddenly they heard the sound of a violent blast of wind rushing into the house from out of the heavenly realm. The roar of the wind was so overpowering it was all anyone could bear! Then all at once a pillar of fire appeared before their eyes. It separated into tongues of fire that engulfed each one of them. They were all filled and equipped with the Holy Spirit and were inspired to speak in tongues—empowered by the Spirit to speak in languages they had never learned!"
Pray for the outpouring of the Holy Spirit and for the fire of revival. That we will all be transformed and empowered in a fresh new way at Montclair Tabernacle Church. Pray for the children, the youth, adults and families to have a life-changing encounter with God.
Day Twenty One – Celebration of Victory.
Psalm 47:1-3
"Oh, clap your hands, all you peoples! Shout to God with the voice of triumph! For the Lord Most High is awesome; He is a great King over all the earth. He will subdue the peoples under us, And the nations under our feet."
Today is the last day of your fast. Celebrate, rejoice, and shout with a voice of triumph for your God has gone before you, to bring the nations under our feet.