PRAYER
If you sense God has more for your life, 21 Days Ablaze is a great place to start believing Him for all that He has for you. As you practice seeking Him first, He will move on your behalf like never before. You will start to see the power of prayer impact your relationships, work, family, and every area of your life. Whether you join us in person or online, we would love for you to be part of 21 Days Ablaze.
FASTING
The goal of fasting is to draw nearer to God. Biblical fasting always has to do with eliminating distractions for a spiritual purpose; it hits the reset button of our soul and renews us from the inside out. It also enables us to celebrate the goodness and mercy of God and prepares our hearts for all the good things God desires to bring into our lives. Remember, your personal fast should present a level of challenge, but it is very important to know your body, your options, and, most importantly, to seek God in prayer and follow what the Holy Spirit leads you to do.
SIMPLY STATED, BIBLICAL FASTING IS REFRAINING FROM FOOD FOR A SPIRITUAL PURPOSE.
According to the Bible, there are three duties of every Christian: give, pray and fast. Biblical fasting takes a lot of discipline and strength—strength which you can only receive from God. Your private discipline will bring you rewards in Heaven, says Matthew 6. When you give God your first through fasting, prayer and giving at the beginning of the year, you set the course for the entire year.

TIMING OF A FAST
At Montclair Tabernacle, we encourage fasting for 21 days each year in the month of January. This is part of 21 Days Ablaze, a season of focused prayer as a church family. You may also choose to fast at other times during the year for your own spiritual development. The emphasis is on doing a Daniel style fast, however, you may choose to fast a single meal, a whole day, or three days or more. The timing of your fast is not as important as the strength of your focus on God as you fast.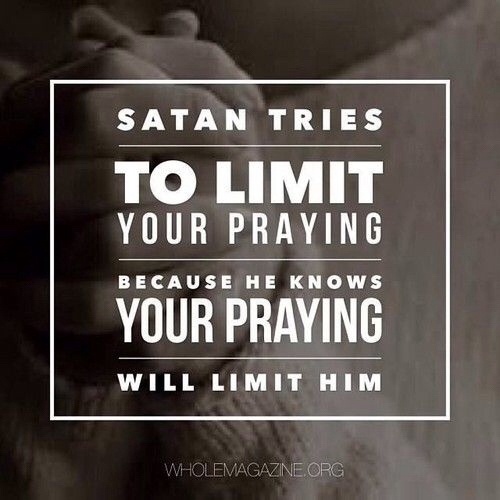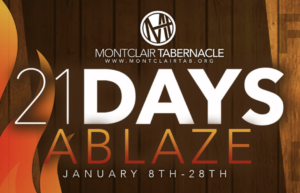 The Challenge
1. Do you desire closeness with God you can't seem to find?
2. Do you have a loved one that you would give anything to see them come to know Jesus?
3. Do you have financial needs that seem to outweigh that weekly paycheck? Most do!
You need the same thing Moses needed when the enemy was approaching…he needed a sea to part. And it did. David needed a giant to fall. And the giant fell. Esther needed an audience with the king. And it was granted. And you, my friend, need a miracle you have never experienced, and now is the time.
BIBLICAL FASTING FOCUS
1 TIMOTHY 2:1-2
"I exhort therefore, that, first of all, supplications, prayers, intercessions, and giving of thanks, be made for all men; For kings, and for all that are in authority; that we may lead a quiet and peaceable life in all godliness and honesty."
ROMANS 12:1
"I beseech you therefore, brethren, by the mercies of God, that ye present your bodies a living sacrifice, holy, acceptable unto God, [which is] your reasonable service."
MATTHEW 6:33
"But seek ye first the kingdom of God, and his righteousness; and all these things shall be added unto you."
ISAIAH 58:6
"[Is] not this the fast that I have chosen to loose the bands of wickedness, to undo the heavy burdens, and to let the oppressed go free, and that ye break every yoke?"
We want to encourage you to target your prayers during the fast. Two specific areas we will be focusing on together are leadership and finances. The Bible instructs us to continually pray for our leaders (1 Timothy 2:1-2). When we lift up our leaders, here in the United States and around the world, we can expect God's peace in our lives and in our nation.
Another great promise, from the book of Isaiah, proclaims that the chosen fast will "undo the heavy burdens and let the oppressed go free." We are living in tough economic times and we know that so many people are under a financial burden. As we come together to fast and pray, we believe that your burdens will be lifted and that financial blessings will be released into your life!
We encourage you to seek the Lord in prayer and let your decisions about your biblical fasting come from Him. Ask the Lord to show you areas to target during your time of fasting and prayer. We believe that, as we pray and seek God and give Him our best at the first of the year, He will bless our ENTIRE year (Matthew 6:33)!

Why should I fast?
Are you in need of healing or a miracle? Do you need the tender touch of God in your life? Is there a dream inside you that only He can make possible? Are you in need of a fresh encounter? Do you desire a deeper, more intimate and powerful relationship with the Lord? Are you ready to have heightened sensitivity to the desires of God? Do you need to break away from bondages that have been holding you hostage? Is there a friend or loved one that needs Salvation? Do you desire to know God's will for your life?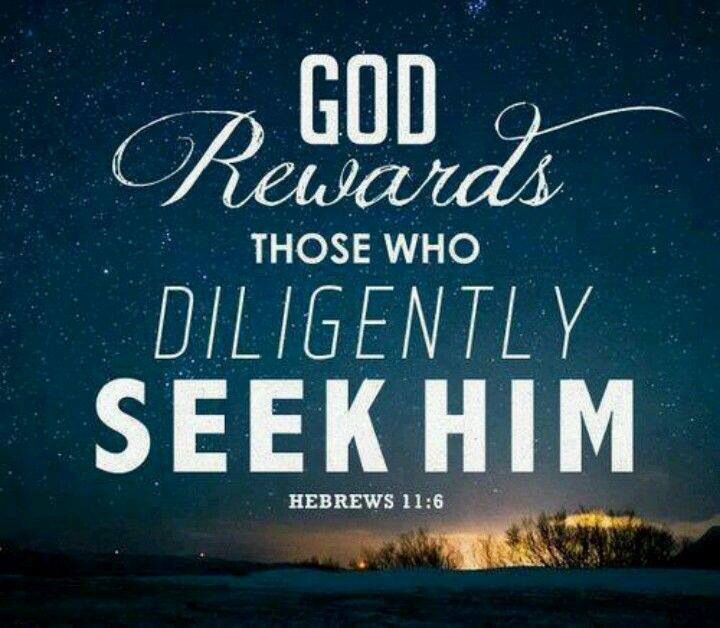 TYPES OF FASTS
Your personal fast should present a level of challenge, but it is very important to know your body, your options, and most importantly, to seek God in prayer and follow what the Holy Spirit leads you to do.
COMPLETE FAST
In this type of fast, you drink only liquids, typically water with light juices as an option.
SELECTIVE FAST
This type of fast involves removing certain elements from your diet. One example of a selective fast is the Daniel Fast, during which you remove meat, sweets, and bread from your diet and consume water and juice for fluids and fruits and vegetables for food.
———————————–
Scripture References for fasts:
Matthew 6:16-18 .
Matthew 9:14-15 .
Luke 18:9-14 .
Acts 27:33-37
Nehemiah 9:1-3
PARTIAL FAST
This fast is sometimes called the "Jewish Fast" and involves abstaining from eating any type of food in the morning and afternoon. This can either correlate to specific times of the day, such as 6:00 am to 3:00 pm, or from sunup to sundown.
SOUL FAST
This fast is a great option if you do not have much experience fasting food, have health issues that prevent you from fasting food, or if you wish to refocus certain areas of your life that are out of balance. For example, you might choose to stop using social media or watching television for the duration of the fast and then carefully bring that element back into your life in healthy doses at the conclusion of the fast.

Taken from Jentzen Franklins book ,"101 Answers about Fasting".
The Daniel Fast
That leads us to the second most asked question we receive, which always centers on the Daniel fast. The Daniel fast is a biblically based fast that omits any type of meats, sugars, processed foods; you eat only fruits, vegetables, and drink water for a predetermined season of time.
The biblical basis for the Daniel Fast is based on verses found in a few different locations in the book of Daniel, but the most famous is found in Daniel chapter one. During the reign of Nebuchadnezzar, king of Babylon, several Israelites, including Daniel, were asked to join the king's service. They were offered royal food and wine that was also offered to Babylonian idols. But Daniel purposed in his heart that he would not de le himself with the portion of the king's meat, nor with the wine which he drank: therefore he requested of the prince of the eunuchs that he might not defile himself (Daniel 1:8 KJV).
Then, in verse 11, Daniel takes it a step further with a challenge:
So Daniel said to the steward, whom the chief of the eunuchs had set over Daniel, Hananiah, Mishael, and Azariah, "Please test your servants for ten days, and let them give us vegetables to eat and water to drink. Then let our appearance be examined before you, and the appearance of the young men who eat the portion of the king's delicacies; and as you see t, so deal with your servants." So he consented with them in this matter, and tested them ten days.
And at the end of ten days their features appeared better and fatter in flesh than all the young men who ate the portion of the king's delicacies. Thus the steward took away their portion of delicacies and the wine that they were to drink, and gave them vegetables.
As for these four young men, God gave them knowledge and skill in all literature and wisdom; and Daniel had understanding in all visions and dreams (Daniel 1:1

1-15).
Daniel Fast Specifics
Many of the questions we receive each year relate to the use of spices, dairy, coffee and supplements. While there are areas of technicality, try not to turn a spiritual pursuit of God into a legalistic set of strict rules and regulations. There is the letter of the law and there is the spirit of the law. None of the things mentioned are fasting disqualifers, and in fact, a critical and judgmental spirit is a far greater danger. So if you must err, err to the side of grace.
The technical answer is that the Daniel fast implies only food that comes from the ground, and especially focuses on fruits, vegetables and water. But since salt and most spices also come from the ground or plants, then technically these fall into that category. Salt has other health risks, and if you plan on using it be sure your physician agrees.
Keep the main thing the main thing.
If a little sugar free ranch dressing helps you stay with the main thing, which is salads, fruits, and vegetables, then don't judge or be judged. Moderation and wisdom and right motives are the key here. Don't "strain at a gnat" and miss out on the greater purpose of the fast. Here is another rule of thumb for what to eat and not eat on a fast: When in doubt…don't. (see Matthew 23:24)
Another most-asked question has to do with dairy products. In this category are types of milk, 2 butter and sour cream. The technical answer to this question would be "no" because these come from an animal and are not plant based. That being said, there are numerous plant based substitutes such as soy or almond that you can use that may help add that flavor or texture you need to make the food more palatable or that drink a bit less bland. Again, err to the side of grace.
Another question we receive has to do with coffee, tea and artificial sweeteners.
Technically speaking, coffee comes from a bean and tea is plant based as well, but you need to be aware that when you drink any beverage, hot or cold, with caffeine there is a risk when it accompanies a change in diet. If you choose to abstain from drinking caffeine, expect a pretty strong headache for the first three days as your body cries out for caffeine while it sheds itself of the toxins you have ingested and held onto over time.
Artificial sweeteners may help make food or a drink more palatable, but if there is anything medical science agrees to when it comes to the foods we eat, it's that most artificial sweeteners are not only unhealthy, but many times they can be worse than actual sugar. Be wise here and don't allow yourself to become legalistic.
For additional resources on fasting please visit – https://www.jentezenfranklin.org/fasting